Business Account
Business accounts are user accounts for NordPass Business and Enterprise. They make adding new members to your organization and managing them much quicker and easier. You can also use integrated Single Sign-On (SSO) providers to allow frictionless access for your employees.


Here's how NordPass Business users benefit from the business account:
Setting up MFA is quick
You can set up an extra layer of security right within the NordPass desktop and mobile app.
Change passwords from one place
Business Account lets NordPass Business users update their passwords in the NordPass desktop and mobile app.
The simple, secure login process
It is possible to use SSO functionality, allowing for a more straightforward and faster login. If you don't have an SSO provider, we've got you covered with Business Account.
How to Reset Password?
If you forgot your account password after entering your email, select Forgot password.


Next, confirm that your email address is entered correctly, and click on Send Reset Link if you want to reset your password.

Once Send Reset Link is clicked, a reset password link will be sent to your email. Open the link by clicking on Reset password.


A new screen will open to create a new password. Your new password cannot be the same as the previous one.


When a new password is entered, click Create Password. Once the password is created, you can continue to the application and log in.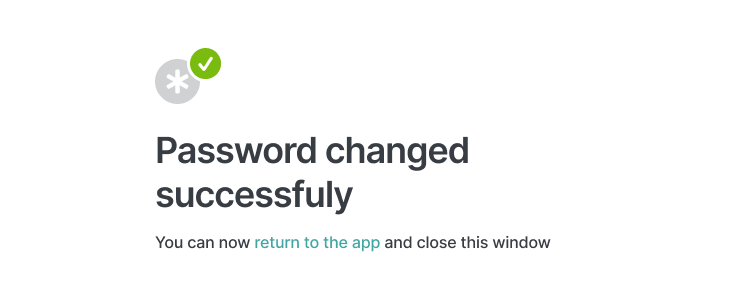 How to Set Up MFA?
Follow all the steps below to set up Multi-Factor Authentication on your Business Account.


Log in to your Business Account as usual and open up your vault.


Go to Settings > Security. Switch the Multi-factor authentication (MFA) toggle ON and enter your Master Password.


Once the Master Password is entered, a QR code will be generated.



Scan the QR code with your Authenticator App (Google authenticator or Duo) or enter the code below and click Continue.


Once the QR code is scanned, or you have entered the below code into your Authenticator App, click Continue, and you will be prompted to enter the code found in your Authenticator App.



Enter that code and click Continue.


Once MFA is set up, you will receive your Backup Codes, which can be used if you do not have your Authenticator App with you when logging in. Each code can be used only once. Download Codes as PDF on your device or copy them and store them securely. You will always find the codes in the vault once you are logged in.



After saving your codes, click Done and continue working within your vault.

If you want to turn OFF MFA in your vault, go to Settings > Security, switch the Multi-factor Authentication (MFA) toggle to OFF, and enter your Master Password to confirm.
How to Use MFA Backup Codes
If you do not have access to your Authenticator App when logging in, follow the steps below and learn how to use your MFA Backup Codes:


Log in as usual, and you will be prompted to enter your MFA code. Click Use backup codes.

Enter one of the Backup Codes you have saved previously (each code can be entered only once).

If you regain access to your Authenticator App, you can always click Return to MFA page and enter your MFA code there.

Once you enter the Backup Code

you can access your vault as usual by entering your

Master Password

.