Trusted contacts
In order to share your items with trusted contacts, you need to add their email addresses first.


To do that locate the Settings in your NordPass app. Scroll down to the very bottom and there will be the Advanced. Select it and then press the button Add New Contact as shown in the picture:


You will be prompted to enter the email address of the person you'd like to share your login details with (the recipient has to be a NordPass user. If they're not, an invitation to join will be sent, and once they create an account, you'll be able to move to the next step).


Enter a message of up to 100 characters and click Encrypt. The message will be automatically encrypted with the recipient's public key. Now it can only be decrypted with the recipient's private key.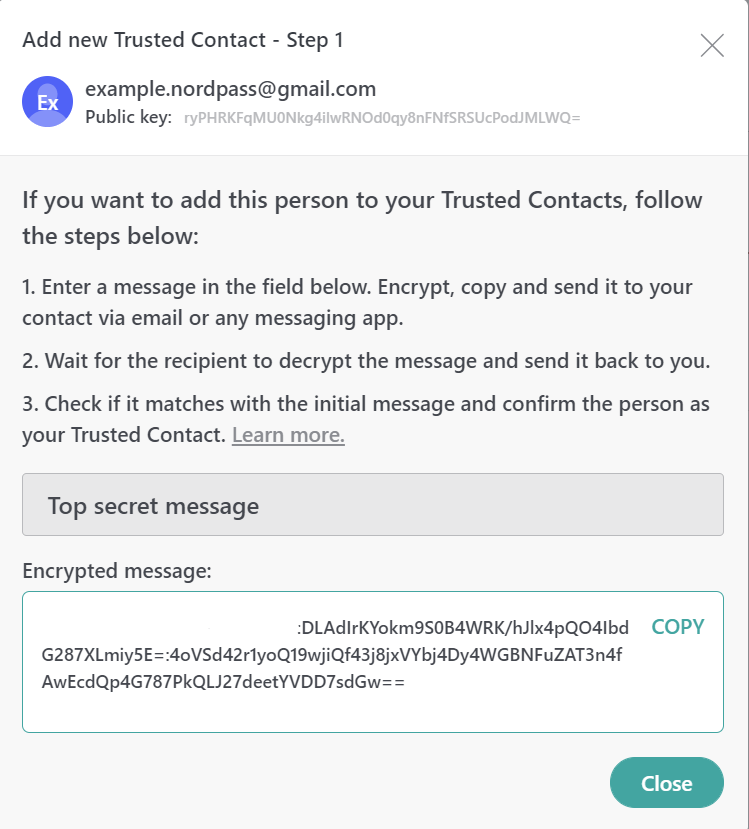 Send the encrypted message over a third-party app.


Once the receiver gets the encrypted message, they can go to their Trusted Contacts list, click on your request and enter the message. If the keys match, the message will be decrypted.


The recipient tells you what the decrypted message says. If the text matches, you can verify them as a trusted contact. Once this is done, you've established a secure connection. From now on, you can safely share items with one another.


Sharing
The sharing with trusted contacts feature works similarly to sharing information with other NordPass users.


To share any login, secure note or credit card item just click the 3 dots that appear when your mouse pointer hovers over the item and click Share as shown in the picture: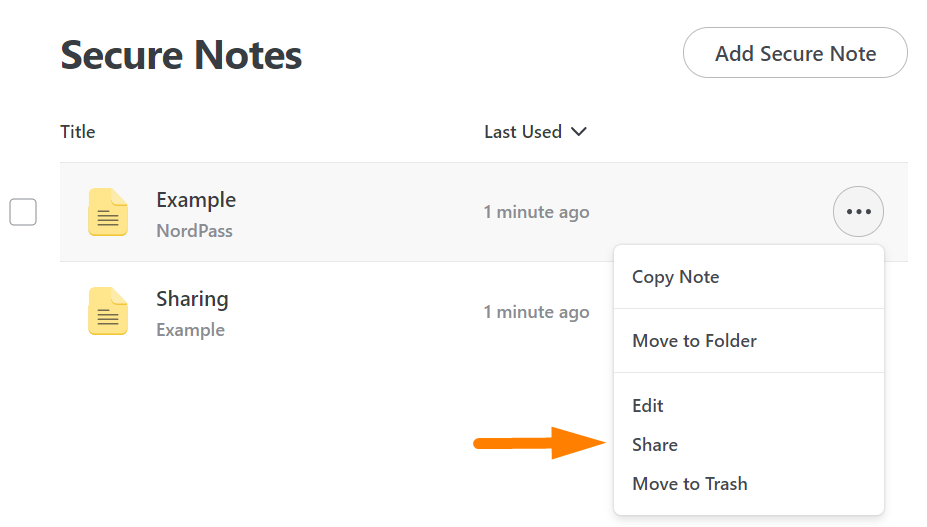 After, you will be prompted to enter the recipient's email address and select The Rights that you want to give them. Later, click Share:

There will be another button that says Transfer Ownership near your already trusted contact's email address if the item is already shared. This feature will let you transfer all rights to the other user. However, beware that you will lose some of your rights this way.


If another user is the owner and you delete the shared item, the owner will not lose it, and vice versa.


The sharing state will change to Pending until the recipient accepts the shared item. Once the item is shared, the recipient will receive a notification and will have to accept the shared item in order to have access to it. Once the recipient accepts the item, the Pending state will disappear.


After completing these steps the item will be reachable to both users. All edits will be seen instantaneously to all users.