A strong password is hard to create and even harder to remember: more than eight characters, as random as possible, include upper and lower cases letters and symbols. This guide will explain how to use our Password Generator to create new secure passwords for your accounts and how to save them in NordPass.
First, you will need to log in to the account that you want to change your password for with your current username and password. After that, go to your account's settings where you can change the password. Alternatively, you can try using the "Forgot password" feature to reset your current password and create a new one. We recommend using NordPass Password Generator to create secure passwords quickly.

Opening Password Generator


There are a few ways to open NordPass Password Generator.


Click on the NordPass browser extension icon and go to Tools -> Password Generator. You can find NordPass in the Extensions folder, it is usually located on the right of the address/search bar.

You can also open Password Generator in the application. You will find it under Tools section in your NordPass app and Web Vault.


Check these guides for more ways to open Password Generator on different operating systems:
Using Password Generator
Once you open NordPass Password Generator you will see a few options and filters that you can set up there. Here is a quick introduction to them: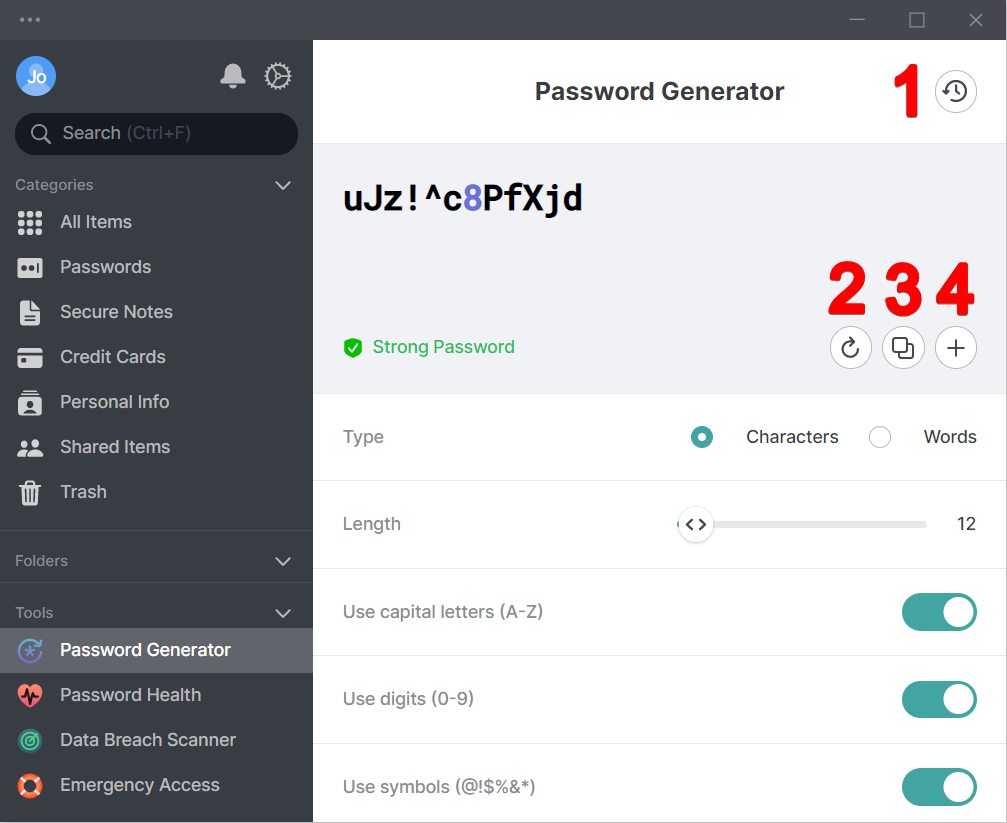 1. History - your generated passwords that were copied or saved will appear here.


2. Generate - click this button to generate a new password.


3. Copy - this will copy your password to a clipboard. After that, you can paste the password into a website, NordPass, or any other place on your device.


4. Save - clicking on the Save button will open a new item window in NordPass where the generated password is already entered. All that is left to do is to choose a title and enter a username with the website address.
Changing your passwords
Paste the newly generated password into the website and confirm this change.


In most cases, NordPass will offer to automatically save the new password in NordPass or update the old one if it was already saved. If you do not get the autosave pop-up, save your new password in NordPass manually by creating a new item. If you need any help with this, we recommend checking our introductory guides:


From now on, NordPass will remember and automatically fill in your new passwords for you!


If you have any questions or need further help, do not hesitate to contact our Customer Success team for some guidance.