Make sure you have access to your computer as that will make the import process to NordPass easier afterwards and just follow these steps:
Go to the SecureSafe password's online website and log into your account;
Go to the Passwords section, located at the upper left side of the browser;
Click the Export text located in the Overview section at the upper right corner:

Choose the comma separator and press the Export button: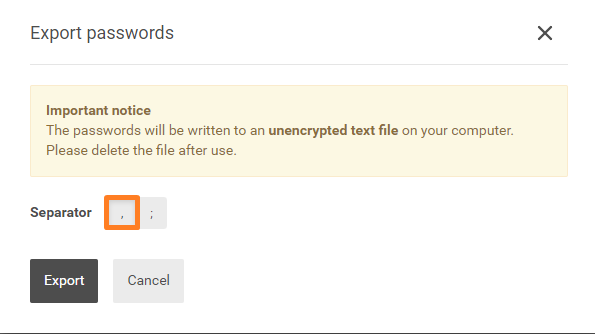 You have successfully exported your passwords from SecureSafe, and you can now start your data import to NordPass.
Before importing your passwords to NordPass make sure that the .CSV file you have is matching our import criteria. For more information, please check how to organize .CSV file for import to NordPass.
Finally, check our guide on how to import passwords to NordPass.
If you experience any difficulties feel free to contact our online Customer Support.