This guide will provide the steps that you can take in case you cannot log in or unlock your NordPass account due to:
Incorrect Nord Account password
For your notice, the Nord Account password is a different password from your Master Password. You can find the steps to log in to your NordPass account with the Nord Account here.


In case you have lost your Nord Account password, click on the Forgot your password? button or use the Lost Password option to get a reset link sent to your email address.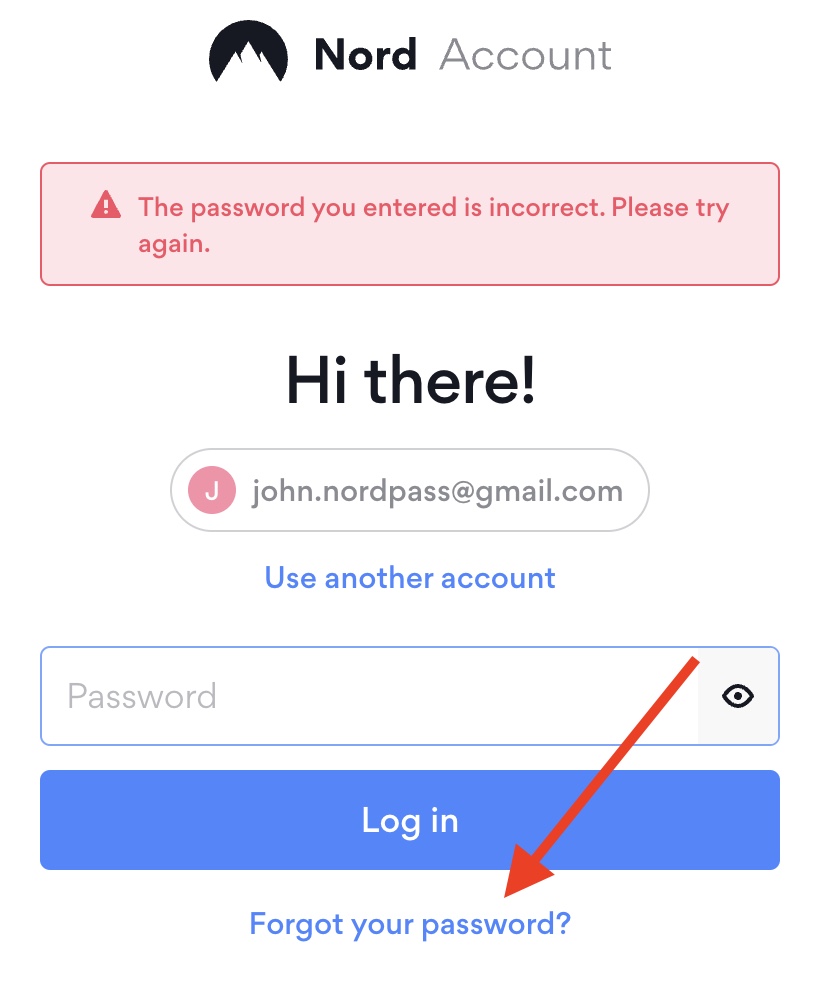 Incorrect 6-digit code
The 6-digit code is used to log in to Nord Account as an alternative to the Nord Account password.


Make sure that you are using the latest code sent to you as the emails may stack up.


If you are not receiving the code, please check the spam/junk folders in your inbox.

Incorrect Multi-Factor Authentication code
MFA code is a 6 digit code that can be found in the authenticator app.
Make sure that you have set up the MFA with the same email address as for NordPass.


Check if the code has not expired.


If you lost access to your device with the authenticator app, you can use backup codes instead. Select See other options and choose Enter one of your backup codes. A list of backup codes were provided to you during MFA set up.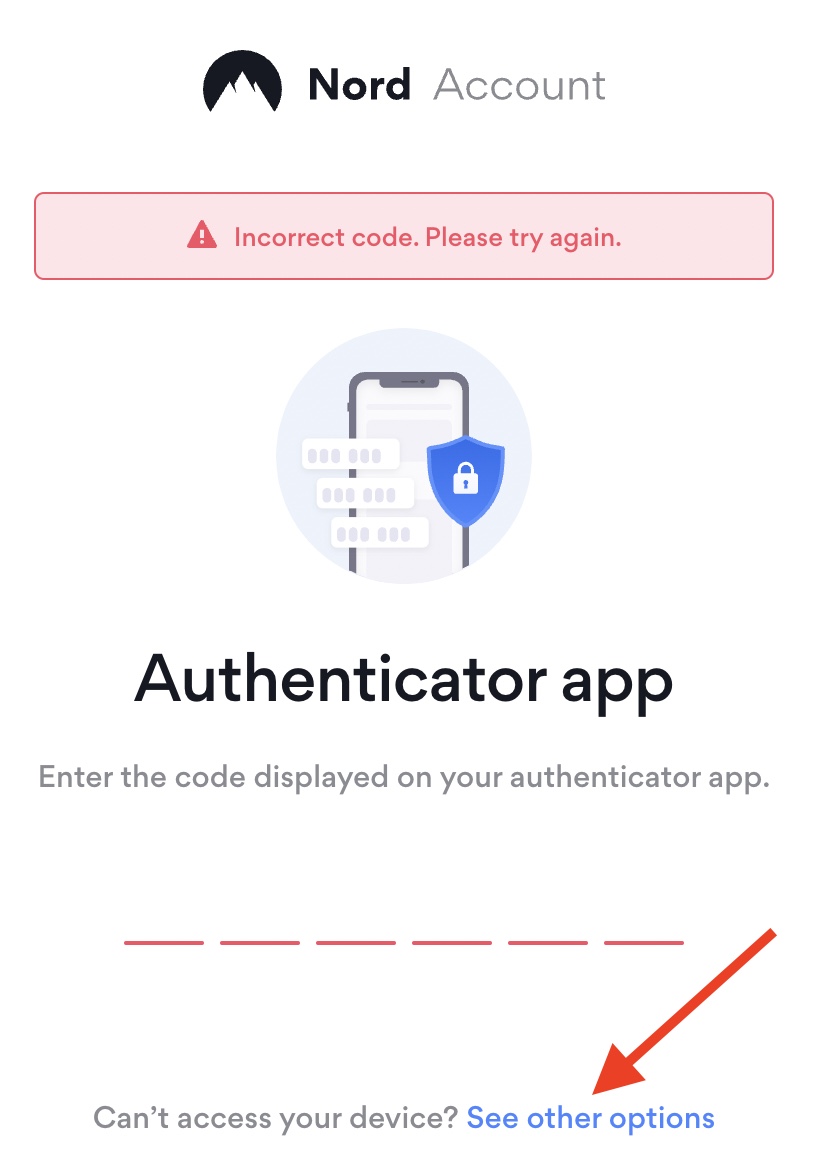 If you have lost access to the authenticator app and don't have backup codes, please contact our Customer Success team in order to reset the Multi-Factor Authentication on your account.
Incorrect Master Password
NordPass Master Password is used to unlock your NordPass application.
Make sure you are typing the password correctly: check uppercase and lowercase letters, your keyboard's language, and keep in mind that a special character was required to create the Master Password.


Try to log in on a different device or browser version.


Reset your Master Password with Recovery Code. Click on the Forgot Master Password? and enter your 24 symbols Recovery Code to reset it. Check our dedicated guide on resetting the Master Password for more help.

Incorrect Recovery Code
NordPass Recovery Code is a randomly generated code that can be used to reset your Master Password. The code is generated in the NordPass application's settings by entering Master Password. You can also use biometrics to generate a new Recovery Code in the mobile NordPass app if you have them enabled to log in to NordPass.
NordPass Recovery Code consists of 24 characters. Make sure that you are entering the full code and that there are no typos.

If you have lost your Master Password and Recovery Code, check our dedicated guide for your next steps.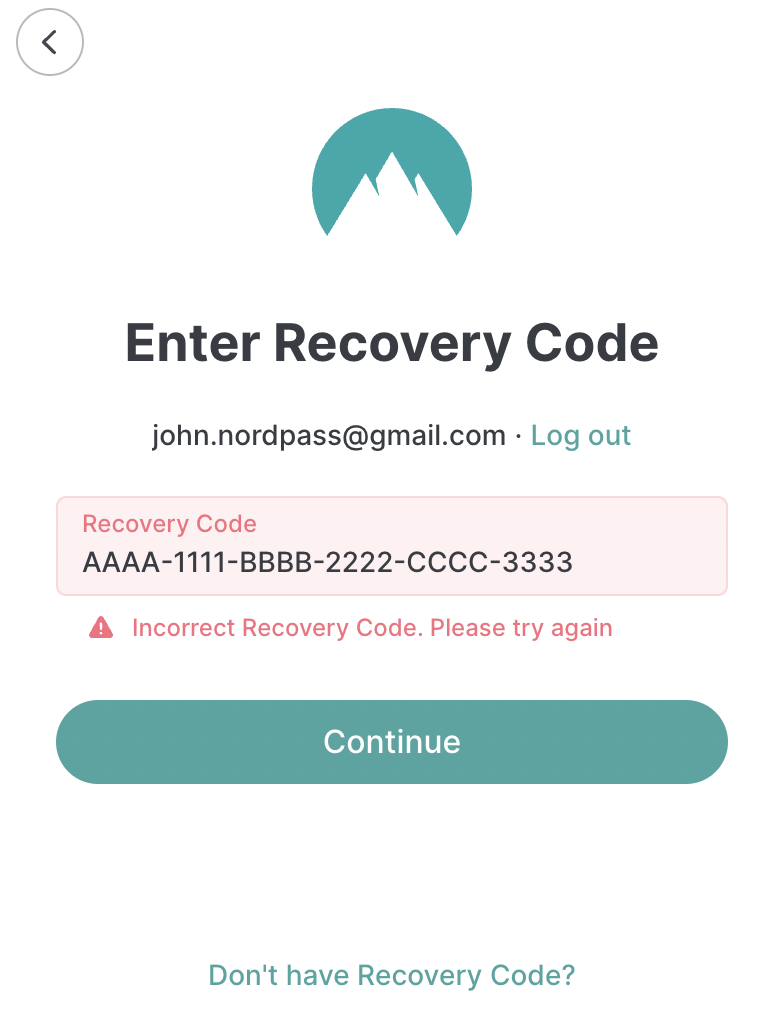 If you are getting any other error messages or cannot find help here, please contact our Customer Support team.