Before reinstalling/uninstalling the NordPass application on your device, please note that removing the NordPass application from your device will remove any login items/credit card's info/secure notes from your NordPass data vault if your items were not synced to your account and you were using the Userless side of the application.
In order to uninstall the NordPass application from your macOS device, follow these steps:
1. Go to Finder > Applications;
2. In the Applications folder, find NordPass;

3. Then, simply drag the NordPass icon to the Trash icon in your macOS device's dock.
Or, click on the NordPass icon to select it. Then, click File button in the menu bar. There, press Move to Trash.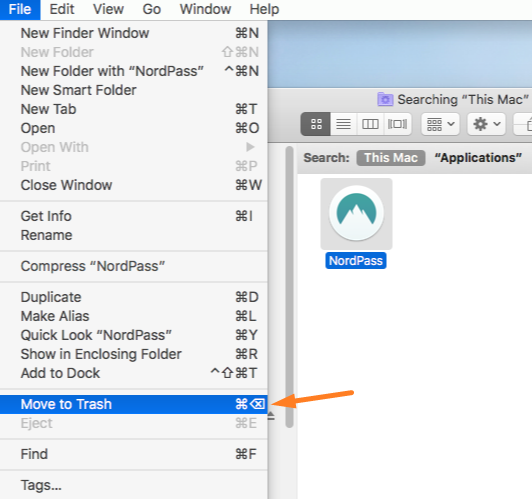 4. Once you have moved the NordPass application to Trash, empty the Trash too. You can do that by going to Trash and clicking on the Empty button:

5. Also, remove the NordPass extension from your browser. You can find the exact steps on how to do it in this article.
That is it, the NordPass application is no longer on your macOS device.
If you have any questions or issues, do not hesitate to contact our Customer Success agents for some guidance.