Multi-Factor Authentication (MFA) is an extra security layer of security to your NordPass encrypted vault. This guide will explain how to enable MFA using authenticator applications or security keys.
Please note, that MFA will be enabled on your Nord Account. This means that you will be asked to authenticate yourself with an extra step whenever you try to log in to your Nord Account and access these Nord products: NordPass, NordVPN, and NordLocker. You will not be asked for the MFA code if you are already logged in to your Nord Account on the device.
Authenticator applications
Log into your

Nord Account

and choose

Account preferences.

In Account preferences select Multi-factor authentication (MFA).



A window will appear, requesting your

Nord Account password

. Enter it and select

Verify.


You will get redirected back to Account preferences. Select

Setup.


That will generate your

QR code

and secret key. Open your mobile authentication application (Duo Mobile, Authy, etc.). Afterward, either scan the QR code or enter the secret key. Click

Continue.


Enter the

MFA code

that was generated in your mobile authentication application.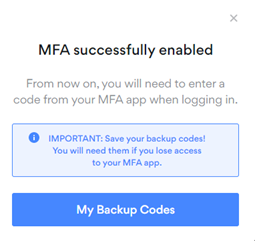 MFA is enabled on your Nord Account! Make sure to click on My Backup Codes and save them. You will need to use the backup code if you are not able to access your MFA application.
Security keys

Alternatively, a Security key can be enabled to prevent any access to your account without a physical security key.
To set it up, access Nord Account and choose Account Settings. Select Multi-factor authentication (MFA), and Security key.


Finish by registering the security key and completing the steps provided in the window.
After the setting is enabled you will be asked for a physical security key in order to access the Nord Account.